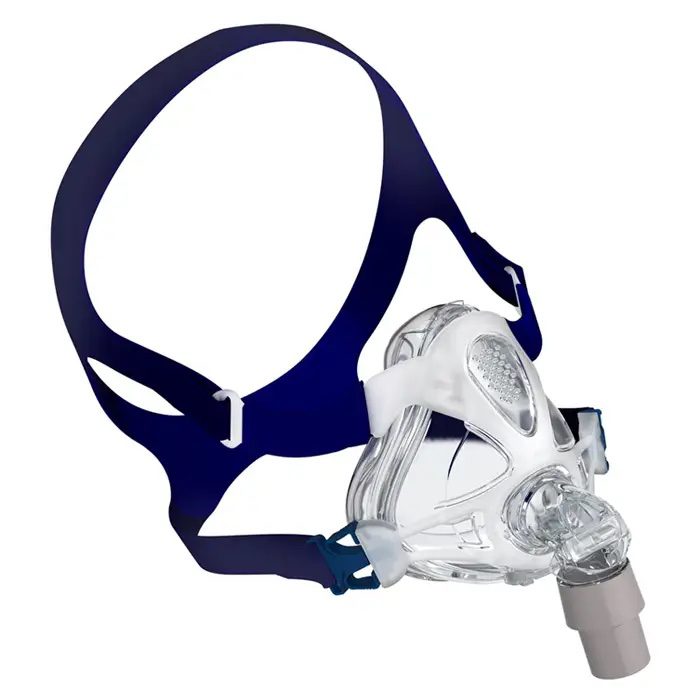 Look & Feel
The Quattro FX features a sleek design, ensuring fewer facial touchpoints than a typical full-face mask. It fits snugly without feeling overly restrictive, and the materials are soft and lightweight.
Ideal For
People who breathe through their mouth while asleep
Sleepers with frequent nasal congestion
CPAP users seeking a mask with excellent adjustability
Who Should Keep Looking
Those who prefer a nasal or nasal pillow mask
Individuals sensitive to masks with fuller coverage
Sleepers who move frequently and need a more anchored design
Size

Small, Medium, Large
The ResMed Quattro FX is a unique entry in the marketplace of full-face masks designed for continuous positive airway pressure (CPAP) therapy. With its innovative dual-wall cushion and reduced facial footprint, this mask may be a good option for people who need a full-face mask but dislike models that require forehead support.
We'll unpack the features of the ResMed Quattro FX Full Face CPAP Mask, compare it with the rest of the Quattro line by ResMed, and share insights from CPAP users who have tried the mask.
Other Full-Face Mask Models Made by ResMed
ResMed Mirage Quattro Full Face Mask: The Mirage Quattro is a precursor to the Quattro FX. It stands out for its MicroFit dial that sits against the forehead and has 24 adjustable settings for a fine-tuned fit.
ResMed Quattro FX for Her Full Face Mask: Marketed toward women, the Quattro FX for Her has a slightly smaller design and features pink headgear instead of blue. It has all the standard Quattro FX features at a comparable price-point.
What You Need to Know About the ResMed Quattro FX Full Face CPAP Mask
The ResMed Quattro FX is a full-face CPAP mask that's designed to cover both the nose and mouth, ensuring people with sleep apnea receive consistent airflow even if they breathe through their mouth during CPAP therapy.
The mask includes a cushion, frame, headgear, and a swivel elbow connection that attaches to your CPAP tubing. A standout feature is ResMed's dual-wall Spring Air cushion that's designed to evenly distribute pressure and reduce discomfort and red marks on the bridge of the nose.
The cushion ensures a snug fit, while the frame and adjustable headgear provide stability. The swivel is designed to prevent hose tangles when shifting positions.
Mask Type: Full-Face
Mask Frame
Cushion
Headgear
Elbow Assembly
Price: $185
Using This CPAP Mask
---
We'll discuss some of the practical concerns about using and maintaining the ResMed Quattro FX Full Face CPAP Mask and how it works with other CPAP components.
The Quattro FX Full Face Mask is highly versatile, fitting seamlessly with most CPAP machines, humidifiers, and hoses. Most CPAP masks and machines use a standard 22-millimeter cuff connector, which makes them generally compatible with one another.
One notable exception is the ResMed AirMini, a travel CPAP machine that's only compatible with certain ResMed masks in the company's AirFit and AirTouch series.
The ResMed Quattro FX is designed to be universally compatible, which includes most heated tubing options on the market.
According to ResMed, the Quattro FX Full Face CPAP Mask can handle therapy pressures between 4 and 30 centimeters of water pressure (cm H2O). This represents the full pressure range for positive airway pressure therapies, including bilevel positive airway pressure (BiPAP).
ResMed recommends hand-washing the disassembled mask cushion and frame on a daily basis with warm water and mild soap. The company suggests using a brush with soft bristles to clean the mask's vent. The headgear should be hand-washed once a week, though it doesn't need to be disassembled prior to cleaning. All mask components should be rinsed with potable water and fully air dried before subsequent use.
What Do Customers Have to Say About the Quattro FX Full Face CPAP Mask?
Many reviewers have singled out the mask's snug yet comfortable fit, emphasizing that it doesn't leave red marks on their face in the morning. Others appreciate the ability to adjust the mask to achieve a strong, secure seal.
A few users mention a learning curve when adjusting to it, especially if you're transitioning from a nasal CPAP mask. A handful of reviewers have also remarked on the noise, wishing this model were a tad quieter.
Medical Disclaimer: This content is for informational purposes and does not constitute medical advice. Please consult a health care provider prior to starting a new treatment or making changes to your treatment plan.

Still have questions?
Sleep apnea products can be confusing. If you need individualized assistance, send us an email at [email protected] with your questions and we'll help find the best fit for you.