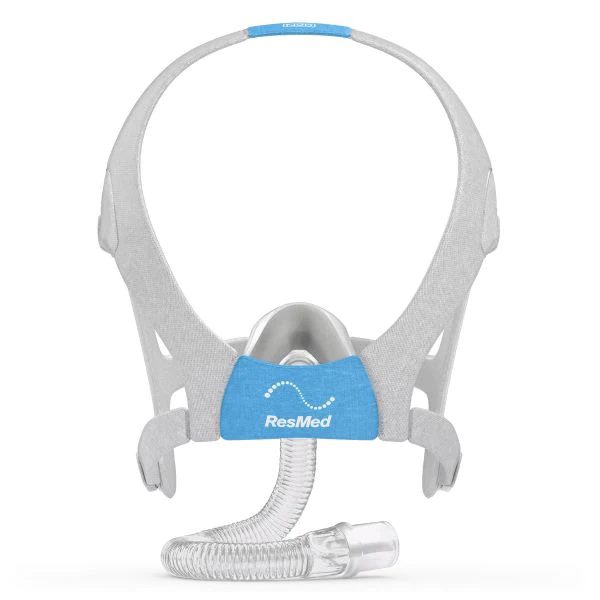 Look & Feel
The AirTouch N20 features a memory foam cushion that surrounds the user's nose, with headgear that allows for a clear range of vision. The standard AirTouch N20 has headgear with blue accents, while the AirTouch N20 for Her has a lavender color scheme.
Ideal For
People who find silicone cushions uncomfortable
CPAP users with sensitive skin
People with facial hair
Who Should Keep Looking
CPAP users who breathe through their mouth
Those who prefer the feel of a nasal pillow mask
People with an implanted medical device, such as a pacemaker
Size

Small, Medium, Large, Small for Her
The ResMed AirTouch N20 is a nasal mask that can be used with continuous positive airway pressure (CPAP) or other positive airway pressure (PAP) machines. The mask's defining feature is a soft memory foam cushion that's designed to reduce skin irritation.
We'll look closer at the AirTouch N20's design and performance, including how it compares to similar ResMed masks. We'll also walk you through the mask's suggested care and replacement schedule, which differs from masks that use a silicone cushion.
Other Nasal Mask Models Made by ResMed
ResMed AirFit N20 Nasal CPAP Mask: The AirFit N20 shares the same frame and headgear as the AirTouch N20, differing only in that it features a silicone cushion rather than the N20's memory foam cushion.
ResMed AirFit N30 Nasal CPAP Mask: Rather than covering the entire nose, the AirFit N30's silicone cushion cradles the nostrils and the tip of the nose for a lower profile than traditional nasal masks.
ResMed AirFit P10 Nasal Pillow CPAP Mask: The AirFit P10 features minimalist elastic headgear and a nasal pillow mask design that seals inside the nostrils rather than against the user's face.
What You Need to Know About the ResMed AirTouch N20 Nasal CPAP Mask
The ResMed AirTouch and AirFit N20 are a pair of nasal CPAP masks that have the same frame and headgear. However, while the AirFit N20 has a silicone cushion, the AirTouch N20 features a memory foam cushion that's designed to prevent skin irritation while maintaining a leak-free seal.
The AirTouch N20's soft fabric headgear is adjustable and features easy-to-use magnetic connections that make it quick to put on or take off. The headgear cradles the back of the user's head while providing a clear line of sight for watching TV or reading before bed.
While this mask is not subject to a product recall, the manufacturer notes that the magnetic clips should be kept at least 2 inches away from any implanted medical device. ResMed also cautions that the mask should not be used by anyone with a metallic implant in their head or metal splinters in their eyes.
What Comes With It
The AirTouch N20 has everything you need to connect it to an existing PAP system, including an elbow assembly and a short hose that connects to your CPAP tubing, which must be purchased separately.
Shoppers should measure their face to choose the right cushion size before purchasing, as the mask comes with only one cushion in a single size. ResMed has a printable sizing guide on its website.
Mask Type: Nasal
Components:
Memory foam cushion
Headgear
Mask frame
Elbow connector and short hose
CPAP Mask Cost
Although the AirTouch N20 has an average price-point for a nasal CPAP mask, it's important to consider the cost of replacement parts when deciding whether a mask model will fit into your budget.
Replacement Components
Each component of a CPAP mask has a limited lifespan and must be replaced regularly to keep the mask hygienic and working correctly. This consideration is particularly important for the AirTouch N20, as memory foam cushions should generally be replaced more frequently than silicone models.
ResMed suggests the following replacement schedule for AirTouch N20 components, although users should still regularly inspect their mask and replace parts once they become worn.
| Separates | Replacement Schedule | Price |
| --- | --- | --- |
| Cushion | Every two weeks | $37 |
| Mask Frame | Every three months | $77 |
| Headgear | Every six months | $34 |
Using This CPAP Mask
---
The AirTouch N20's magnetic headgear makes this mask easy to put on and take off, even in the middle of the night. Adjusting and taking the mask apart for cleaning is also intuitive, and the lack of small parts should be helpful for people with dexterity concerns.
The vast majority of PAP machines are compatible with all CPAP masks, including the AirTouch N20. The ResMed AirMini travel CPAP device is a rare exception, but the AirTouch N20 can be used with the AirMini with the purchase of a connector. ResMed also offers the AirTouch N20 as part of a kit that includes the AirMini connector and other accessories.
The AirTouch N20 has a range of 4 to 30 centimeters of water pressure (cm H2O), which is higher than some competing models. While the AirTouch N20 is more comfortable at high pressure levels than nasal pillow masks or nasal masks with less coverage, some people prescribed a higher pressure setting may prefer the feel of a full-face mask.
The AirTouch N20 is compatible with heated tubing that has a standard 22-millimeter cuff connector. Heated tubing is more likely to be incompatible with a CPAP machine than it is with a mask, so it's critical to check that tubing works with your chosen machine before purchasing.
Although the AirTouch N20's cushion must be wiped down rather than washed, the mask's other components should be cleaned regularly with warm, soapy water.
ResMed recommends cleaning the elbow and short hose daily, while the headgear and frame should be washed once a week. After cleaning, all components should be rinsed in clean water and left to air dry before reassembling the mask.
What Do Customers Have to Say About the AirTouch N20 Nasal CPAP Mask?
Reviews for the AirTouch N20 are very positive overall, with many customers writing that this mask is the first to not leave red marks on their face. This is thanks to the memory foam cushion, which some users say is more comfortable and offers a better seal than silicone.
However, some reviewers dislike that the memory foam cushion must be replaced frequently. Some even say that they switched to the AirFit N20 silicone cushion, which has a longer lifespan and can be used with the AirTouch N20 frame and headgear.
Trial, Warranty, and Shipping Policies
Availability
CPAP masks, like CPAP machines, can only be purchased from an authorized retailer after first obtaining a prescription. However, individual replacement components are available without a prescription from a wider range of both online and brick-and-mortar retailers.
Shipping
Many online CPAP retailers offer free shipping for orders over a specified amount. However, the total cost and shipping time for your order will depend on your chosen shipping options, your location, and the retailer you choose.

Free shipping is available from Sleep Doctor for orders $99 and above within the contiguous U.S.
Returns
Each CPAP retailer has its own return and exchange policy, so it's important to double-check your chosen retailer's policies before purchasing your new mask.

Sleep Doctor accepts returns of new, unopened CPAP masks within 60 days of delivery. Customers are responsible for return shipping costs.
Warranty
ResMed backs the AirTouch N20 with a 90-day limited warranty that covers manufacturing and material defects. It does not cover damage resulting from improper use or exposure to smoke. Other terms and conditions apply.

Still have questions?
Sleep apnea products can be confusing. If you need individualized assistance, send us an email at [email protected] with your questions and we'll help find the best fit for you.