Nasal masks and nasal pillow masks are popular options for people who use a continuous positive airway pressure (CPAP) machine to treat sleep apnea. Unlike a full-face mask, which covers the mouth and nose, nasal mask styles deliver pressurized air to just the nose.
Though many CPAP users prefer the more compact design of nasal masks, they can be less effective for people who breathe through their mouth during sleep. To combat this shortcoming, CPAP chin straps are designed to keep the mouth closed, thus reducing the likelihood of air leaks during CPAP therapy.
The best CPAP chin straps combine functionality and comfort. We'll cover who a chin strap is most suitable for and what qualities to look for when evaluating your options. We'll also explore where to buy a chin strap, how to wear one, and how to keep it clean.
Is a CPAP Chin Strap Right for Me?
A CPAP chin strap holds your mouth closed during sleep, which allows pressurized air from the CPAP machine to be more effectively delivered into your upper airway through your nose. A chin strap is designed to limit mouth breathing and can help prevent dry mouth, which is a common side effect of CPAP therapy.
Ideal For:
Who Should Keep Looking:

People who use a nasal CPAP mask or nasal pillow mask
Sleepers who tend to breathe through their mouth
CPAP users dealing with dry mouth

People who use full-face masks that cover both their mouth and nose
Those who rarely breathe through their mouth
CPAP users who do not experience mask leaks
---
Sunset Comfort Chin Strap
Ideal For
People looking for a soft, comfortable chin strap
Sleepers wanting a minimalistic strap without complicated features
Anyone with a latex allergy
Who Should Keep Looking:
People who use a full-face CPAP mask
Individuals looking for a looser strap
Shoppers who want to choose from multiple size options
The Sunset Comfort Chin Strap is a budget-friendly and comfortable option. Featuring only a chin cup and side straps, this is a straightforward accessory that is easy to use. It attaches at the top of the head, without additional behind-the-head support straps like many competing models.
This latex-free chin strap uses cotton, spandex, and Velcro. The stretchy spandex and adjustable Velcro closure enable a comfortable fit for the majority of CPAP users.
Although this model is simple and flexible, it may feel too tight for some people, especially those who want a chin strap with more tailored size options.
Use this SleepApnea.org link for the most current discount on the Sunset Comfort Chin Strap
Shop Now
---
Snugell Premium Chin Strap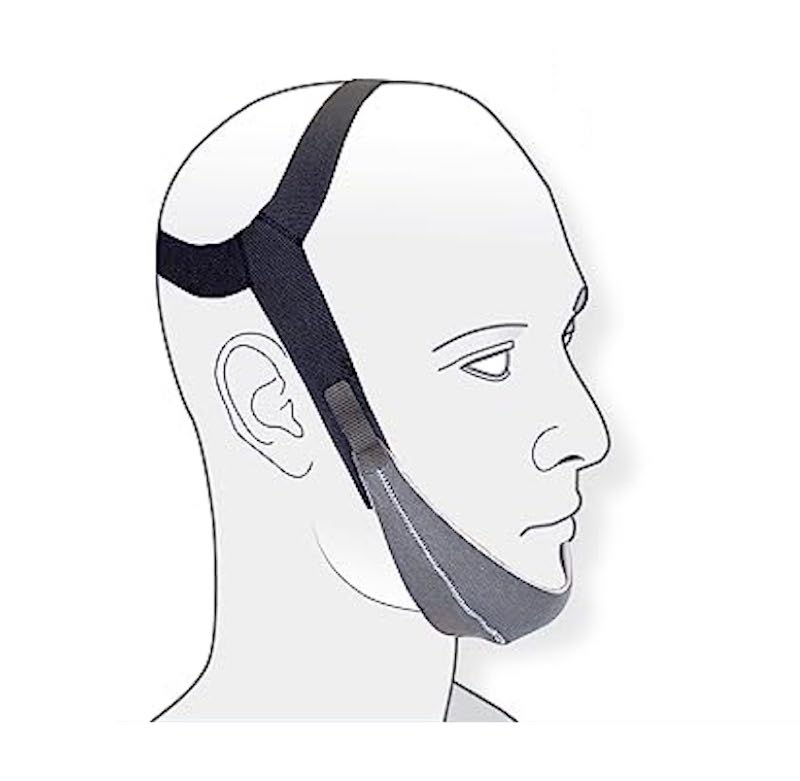 Ideal For
People seeking a lightweight chin strap
Those who want adjustable side straps for optimal fit
Shoppers looking for a chin strap made with soft fabric
Who Should Keep Looking:
Sleepers who want a lower-profile chin strap
People looking for a more pillowy chin cup
Shoppers with facial hair or sensitive skin
Snugell's Premium Chin Strap features an easy-to-use design with lightweight, breathable fabric. Some sleepers find chin straps with adjustments on top of the head to be difficult to manage, but this strap includes Velcro strips on the sides for simple, intuitive size modifications.
While the side straps make this model more adjustable, they also create more contact points with the face, which may be bothersome for some people with facial hair or sensitive skin. The chin cup is soft but not especially padded, which may not be ideal for people who want a deeper or more pillow-like chin cup.
Use this SleepApnea.org link for the most current discount on the Snugell Premium Chin Strap
Shop Now
---
Why We Picked These
Our product research team has extensive knowledge about sleep apnea treatments and how to get the best results from CPAP therapy. We dive deep into accessories like CPAP chin straps, synthesizing information from customer reviews and product details while considering issues like manufacturer reputation to identify the best CPAP supplies and help you decide which products are most likely to improve your experience using a CPAP machine.
What to Consider When Pairing a Chin Strap With Your CPAP Mask
Choosing a CPAP mask and chin strap for CPAP therapy involves considerations such as price, brand reputation, materials, fit, and comfort. While chin straps are only one component of your CPAP setup, finding the right one can provide a significant boost to your nightly sleep.
CPAP Chin Strap Considerations
Price
Chin straps usually cost $5 to $20, depending on the quality of materials used and overall design. When evaluating your options, it is best to look for materials that will minimize skin irritation and a design that can effectively hold your mouth closed without being too tight.
Brand Reputation
Not all brands of chin straps are interchangeable. Look at a manufacturer's reviews before purchasing to identify potential red flags. You should also consider how customer-friendly their return policies are to ensure they stand behind their products.
Size & Fit
A poorly fitted chin strap can cause skin irritation and may not adequately prevent mouth breathing, snoring, or dry mouth. Before purchasing, decide if you should buy a one-size-fits-all strap or one based on head and neck size.

Other issues that can affect the fit of a chin strap include hair length, facial hair, and the profile of the frame and headgear required for the CPAP mask itself.
Comfort & Feel
Finding a soft, breathable chin strap can improve comfort and help avoid irritation and pressure on your face. Also look for any rough stitching or other aspects of a chin strap's design that might be abrasive against your face.
Sleep Position
Side sleepers or those who often toss and turn may benefit from adjustable straps that connect at the top of the head rather than straps on the side of the head that may be inadvertently moved when sleeping.
Quality Materials
All chin straps will eventually need to be replaced, but finding one with durable fabric can be a good option for long-term use. Both polyester and cotton straps are easy to clean and offer a lightweight profile. Cotton is especially breathable and may have a softer feel.
Types of CPAP Masks Best Used With a CPAP Chin Strap
CPAP chin straps are designed to be used with masks that deliver pressurized air to the nose. This includes traditional nasal CPAP masks, which cover the nose, and nasal pillow masks, which sit just below the nose and have silicone buds that are inserted just inside the nostrils.
CPAP Nasal Mask
Nasal CPAP masks extend from the area just beneath the nostrils to the bridge of the nose, often in a triangular shape. The mask, held in place by a frame and adjustable head straps, creates a seal around the nose to deliver the user's prescribed air pressure level.
Benefits:
You Shouldn't Use One If:

Lighter weight and lower profile than a full-face mask
Well suited for people who primarily breathe through their nose
Available in various sizes and shapes

You have significant and persistent nasal blockages
You typically breathe through your mouth but do not want to use a chin strap
Nasal Pillow Mask
Nasal pillow masks create a seal around your nostrils with a cushioned cradle that sits under the nose and silicone nose buds that fit into the opening of the nostrils.
Benefits:
You Shouldn't Use One If:

Even lighter and less bulky than nasal masks
Less contact with the skin may reduce irritation and discomfort
May be more comforting for people who experience claustrophobia

You require high CPAP pressure settings and find the more direct airflow hard to tolerate
You experience frequent nasal irritation, congestion, or blockages
Can You Wear a Chin Strap With a Full-Face CPAP Mask?
It is neither recommended nor necessary to use a chin strap with a full-face CPAP mask. Chin straps close the jaw to encourage nasal breathing for individuals using a nasal or nasal pillow mask. Full-face masks, on the other hand, cover both the nose and mouth to account for both types of breathing.
Where Can You Buy a Chin Strap for CPAP?
CPAP supplies, including chin straps, can be purchased in both physical stores and online. Online retailers such as Amazon or web-based medical device companies offer a wide range of product options, which makes for one-stop shopping. However, some people may prefer to get a closer look at a chin strap in a brick-and-mortar store.
Do You Need a Prescription for a CPAP Chin Strap?
You do not need a prescription to purchase a CPAP chin strap. Because chin straps are replaceable accessories, anyone can purchase one. However, a prescription is required to obtain a CPAP machine and a complete CPAP mask interface.
Will Health Insurance or Medicare Cover the Cost of Your CPAP Chin Strap?
Health insurance may cover all or part of the costs associated with using a CPAP machine, including necessary accessories. Because a chin strap can help troubleshoot common CPAP problems, it may be included in your health plan's coverage.
Medicare, for example, typically covers the majority of CPAP-related costs after you have met your deductible and allows for replacement of a CPAP chin strap every six months.
If you have private insurance, it is best to contact your provider directly. If needed, your doctor may be able to provide documentation for why you need a chin strap.
How to Wear a Chin Strap With Your CPAP Mask
When putting on your CPAP mask and headgear, start with the chin strap. Secure the chin cup to softly cradle your chin. Adjust the straps to create a firm yet comfortable fit that keeps your mouth from opening. Once applied, you can put on your CPAP mask.
How Do You Wear Your Hair With a CPAP Chin Strap and Mask?
Depending on your hair style, you may find that a CPAP mask or chin strap can pull or tangle your hair or that your hair causes straps to slip out of place. If you have long hair, tying it into a comfortable ponytail or wearing a hair wrap to bed may help limit these issues.
Frequently Asked Questions About
CPAP Chin Strap
---
In most cases, you should hand-wash your CPAP chin strap with mild soap and warm water once per week as part of your regular CPAP cleaning routine. However, check for instructions from the manufacturer about how to clean the specific chin strap that you are using.
A chin strap comes in contact with your face, so it is important to keep it free of dirt and debris. Because skin oils and residue can build up, it is best to gently wash the chin strap with soapy water on a weekly basis. Avoid placing it in a washing machine or dishwasher unless the manufacturer indicates it is safe to do so.
Allow the chin strap to air dry completely before using it again. Do not use any abrasive chemicals like bleach, which may cause damage to the strap or contribute to facial irritation.
The exact percentage of CPAP users who need a chin strap is not known. Multiple factors affect the usefulness of a chin strap, and only certain people can benefit from them.
Chin straps are only useful for people who wear a nasal CPAP mask or nasal pillow mask. Even among these CPAP users, many will not require a chin strap, particularly if they do not typically breathe through their mouth. Individuals with full-face masks have no need for chin straps since their mask covers both the nose and mouth.
Mask liners are not considered durable medical equipment and are not covered by Medicare.
To help CPAP users, a chin strap should hold the mouth closed during sleep without creating discomfort or interfering with the fit of the CPAP mask. When used with nasal masks or nasal pillow masks, CPAP chin straps can be a useful way to reduce snoring and help prevent air leaks. Chin straps used on their own have not been proven to reduce sleep apnea symptoms.

Still have questions?
Sleep apnea products can be confusing. If you need individualized assistance, send us an email at [email protected] with your questions and we'll help find the best fit for you.
Medical Disclaimer: This content is for informational purposes and does not constitute medical advice. Please consult a health care provider prior to starting a new treatment or making changes to your treatment plan.