Many people with obstructive sleep apnea (OSA) use continuous positive airway pressure (CPAP) therapy to find relief from their symptoms. These devices deliver pressurized air to breathing passages to help prevent upper airway collapse and decrease throat-closure episodes. 
Tubing connects the CPAP device to a mask that fits over, around, or below the user's mouth or nose. There are many different mask styles that accommodate a range of sleeper types, face shapes, and air pressure settings.
We'll cover the best CPAP masks on the market today, explaining how each model works. We'll provide detailed information on how each mask fits, what kind of features it includes, and explain who is likely to benefit from each particular mask. Additionally, we'll go over some of the most commonly asked CPAP mask questions, including how to properly clean a mask and what types of insurance cover CPAP accessories.
---
ResMed AirTouch F20 Full Face CPAP Mask with Headgear
Ideal For
CPAP users who need high pressure levels
People who have found other full-face masks too rigid or difficult to remove
Those with ongoing CPAP needs who wish to subscribe and save
Who Should Keep Looking
Stomach sleepers
Those who don't require high pressure settings with their CPAP therapy
Shoppers with limited budgets
Size

Small for Her, Small, Medium, Large
Full-face masks can be ideal for people who require high pressure levels for their CPAP therapy. While this type of mask can be heavy or bulky, the ResMed AirTouch F20 has smooth elastic straps that make it fairly lightweight and flexible. Magnetic clips also make the mask easy to put on and take off, and the quick-release elbow joint allows you to quickly remove the mask if you need to get up during the night.
The mask features cushions made of soft memory foam. Your purchase includes cushions in small, medium, and large sizes — we recommend trying each size to determine which fits best. Ideally, the foam should contour gently to your face and create a secure seal without feeling too tight or invasive. ResMed recommends replacing the cushions after 30 days of use, or if they become damaged.
The AirTouch F20 is compatible with any CPAP, BiPAP, or APAP machine. You can make a one-time purchase through The Sleep Doctor, or opt for a subscription and knock 5% off your order's total cost. "Standard" and "for her" designs are available.
---
ResMed AirTouch N20 Nasal CPAP Mask
Ideal For
People who require low to moderate pressure levels during CPAP therapy
Those who need a lightweight CPAP mask to sleep comfortably
Sleepers who primarily breathe through their noses
Who Should Keep Looking
Mouth breathers
Those with CPAP prescriptions for high pressure settings
Anyone seeking a CPAP mask with magnetic clips
Size

Small, Medium, Large, Small for Her
If you've recently started CPAP, acclimating to your new sleep routine can be challenging and frustrating. A lightweight face mask can make a world of difference. Weighing less than 2 ounces, the ResMed AirFit N30 is one of the lightest CPAP masks on the market today. Flexible, non-invasive headgear and soft silicone cushions provide additional comfort to help you get the rest you need while receiving CPAP therapy.
As a nasal cradle mask, the AiFit N30 is best suited to people who breathe through their noses and don't need high pressure levels during CPAP. Each mask comes with cushions in three sizes: small, medium, and small-wide. ResMed's QuietAir technology uses diffused venting to break up air during exhalation and reduce noise, so this mask may be a good fit if you're a light sleeper.
The AirFit N30 is fairly affordable compared to other nasal cradle masks. You'll receive a 5% discount through The Sleep Doctor if you opt for a subscription with your purchase.
---
ResMed AirFit N30 Starter Pack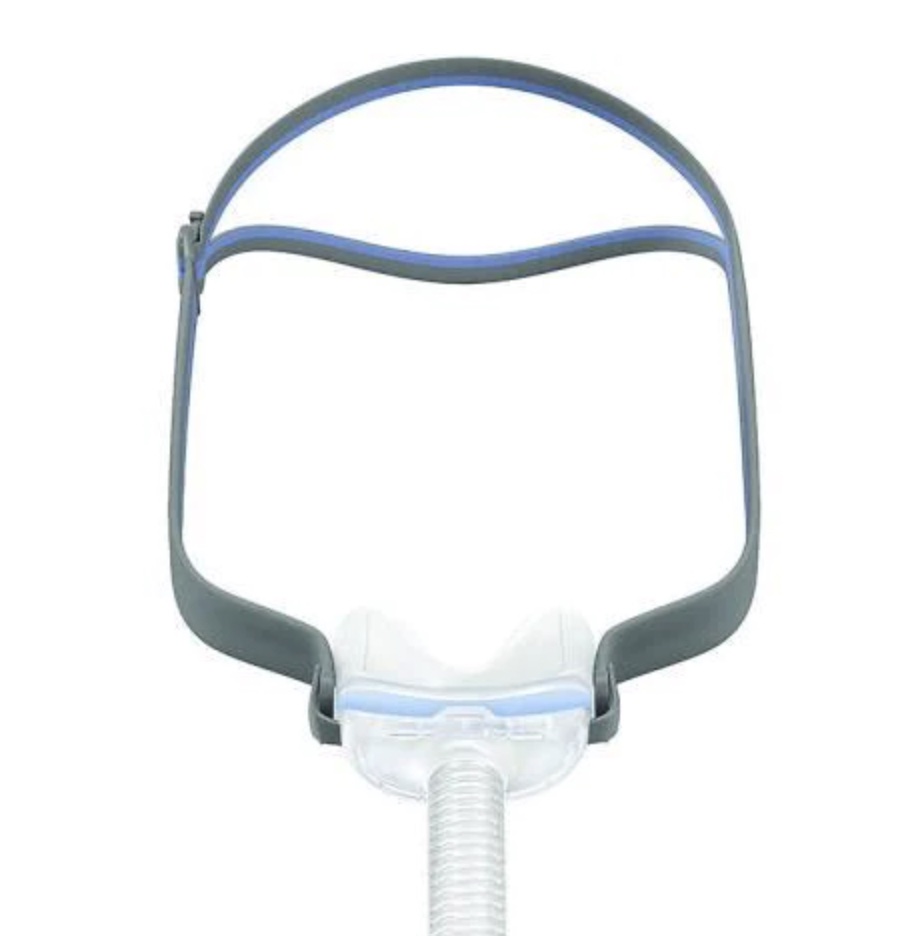 Ideal For
Shoppers seeking a frame that fits multiple cushion models
Those who like to switch between full-face and nasal masks
People who shift positions often
Who Should Keep Looking
Shoppers needing only a mask and no extra accessories
People who never alternate between full-face and nasal masks
Those without a DreamWear-compatible machine
Size

Small, Medium, Small Wide
The Philips Respironics DreamWear Full Face Mask Premium Bundle includes everything you need to achieve a comfortable and secure fit. While this bundle includes a full-face mask, the headgear is also compatible with nasal masks, making it easy for sleepers to switch between the two styles as needed. The frame is compatible with any DreamWear cushion.
Both the included full-face mask cushion and frame are made from silicone that flexes with sleepers' movement. The pillow fits snugly beneath your nose and comfortably fits over your mouth with a firm seal to help prevent leaks. Mask wearers can easily see over the pillow and around the frame, leaving room for those who wear glasses. The mask and headgear easily disconnect from one another with magnetic clips. The CPAP tubing connects securely at the top of the head, making this model a good fit for active sleepers.
Each bundle includes one mask frame, two full face cushions, two magnetic clips, and two headstraps. You can select your preferred frame and cushion sizes at checkout.
Use this SleepApnea.org link for the most current discount on Philips Respironics products
Shop Now
---
ResMed AirFit P30i Nasal Pillow Mask with Headgear
Ideal For
Shoppers seeking a mask that reduces noise
Active sleepers
Those who swap between nasal pillows and nasal cushions
Who should keep looking
People who don't want a bundle that contains multiple pillow sizes
Sleepers with latex allergies
Those who prefer a mask designed for women
Size

Small or Standard Frame; Small, Medium, or Large Cushions
Active sleepers should consider the ResMed AirFit P30i Nasal Pillow Mask with Headgear. The mask features a unique design that adapts to your face shape while keeping the machine's hose out of the way while you sleep. People who shift positions frequently may prefer this mask's top-of-the-head construction, which allows sleepers to shift positions without accidentally disconnecting their mask.
The mask's nasal pillow comes in small, medium, and large sizes made from silicone that feels soft against your skin. The pillow sits below your nose, ensuring you can see over the mask. The frame is engineered to adjust to individual head shapes by flexing and expanding.
The mask has a particularly quiet performance thanks to strategically placed vents that allow air to flow away from your face. Soft sleeves rest next to your skin, helping to prevent irritation and red marks. Velcro straps around the back keep the mask securely in place. You can take the mask off easily using the quick release elbow, which spins 360 degrees.
This model is also compatible with the AirFit P30i Nasal Cradle Cushion. You can use it with any ResMed machine apart from the ResMed AirMini Travel CPAP. Each package includes a nasal pillow, headgear, and frame with elbow.
---
ResMed AirFit F20 for Her Full Face CPAP Mask
Ideal For
Women seeking a full-face mask with a relatively small frame
Those who often experience irritation from their CPAP mask's straps
Shoppers interested in obtaining a subscription for CPAP supplies
Who should keep looking
Mouth breathers
People who need CPAP masks with large frames
Those looking for nasal or nasal pillow mask
If you're a woman who uses CPAP therapy, finding a mask that fits properly may take some trial and error. The ResMed AirFit F20 for Her is a full-face CPAP mask with smaller headgear specifically designed for women. Adaptive wings contour to the face, even if you have a prominent chin or cheekbones, and integrated padding on the headgear is intended to reduce irritation.
You can choose from small, medium, and large cushion sizes to further ensure a comfortable fit. All three are interchangeable with the proprietary Infinity seal. Magnetic clips allow you to easily put on and remove the mask, and you can adjust the straps as needed. Since the mask does not cover the forehead, it won't obstruct your vision when you read or watch television in bed.
Prices for the AirFit F20 for Her vary by seller. If you order the mask through The Sleep Doctor and sign up for a subscription, you'll receive a 5% discount on your purchase.
Fisher & Paykel Eson 2 Nasal CPAP Mask
Ideal For
People who read or watch TV in bed
Back sleepers
Those who frequently use the bathroom at night
Who Should Keep Looking
Active sleepers who prefer a top-of-head tube attachment
Stomach sleepers
People who find forehead straps uncomfortable
Size

Small, Medium, Large
The Fisher & Paykel Eson 2 is a nasal CPAP mask with a number of user-friendly features that distinguish it from competing nasal masks. The streamlined design is ideal for shoppers seeking a less bulky alternative to full-face masks.
The mask features a low-profile design with headgear that is adjustable at multiple points to maximize comfort. You can also choose between small, medium, and large sizes to help ensure a proper fit, and silicone cushions increase comfort while maintaining a close seal. The softness of the silicone helps minimize irritation or red marks that can sometimes occur with masks. VisiBlue highlights are incorporated into the design to indicate connection points, which can be helpful when assembling the mask.
Due to the low profile, the Fisher & Paykel Eson 2 is well suited for sleepers who enjoy reading or watching TV at bedtime. We also recommend this model for users who wake frequently at night to use the bathroom, since the quick-release clips make it easy to remove and put on the mask the middle of the night.
Use this SleepApnea.org link for the most current discount on Fisher & Paykel products
Shop Now
---
Why We Picked These
Our team of sleep product experts at SleepApnea.org have years of experience researching CPAP and sleep apnea-related products. Our researchers stay on top of current CPAP technology developments to ensure that we bring our readers the most up-to-date information possible.
We thoroughly examine brand reputation, customer reviews, and effectiveness. We only recommend trusted devices and update our top picks regularly so you can make informed decisions based on the most recent research and compare the best masks available today.
What You Should Consider When Choosing a CPAP Mask
Choosing the right CPAP mask is crucial. The wrong mask may feel uncomfortable, fail to function, or leak air. We'll highlight some of the most important factors to consider when picking out a CPAP mask.
Price
CPAP masks cost less than the devices they connect to, though they can still be costly. Without insurance, you should expect to pay between $50 and $200 for a CPAP mask, depending on its features and style.
Size and Fit
The wrong size mask or a mask that doesn't fit correctly can fail to deliver effective therapy. Check that a mask comes in the correct size for your needs and consider taking advantage of a trial period to ensure it works well with your face shape. Many masks are available in multiple sizes, so you'll want to explore your options to ensure a compatible fit.
Sleep Position
Side and stomach sleepers may find sleeping with a CPAP mask more difficult than back sleepers because masks are more likely to leak in those sleeper types. Top-of-the-head tubing can help prevent the tube from getting tangled when you move around in your sleep.
Compatibility
There are many CPAP machine brands and multiple product lines within them. Not all components are interchangeable. Make sure the mask you like is compatible with the device you own, or purchase the two together.
Comfort
You're more likely to adhere to CPAP therapy if your mask fits correctly. Adjusting pressure settings with your doctor as needed and adding humidification if necessary also contribute to higher compliance. Other factors that can affect comfort are mask size, mask material, and location of the hose.
Though it takes time to get used to wearing a CPAP mask, there are enough options available that most sleepers can find a suitable match.
Quality Materials
You'll need to replace your CPAP mask regularly. Choosing a mask made from high-quality materials can help extend the time between purchases.
Types of CPAP Masks You Can Choose From
People who use CPAP machines have three main options when choosing a mask. Nasal masks, nasal pillows, and full-face masks each help prevent airway collapse, though they accomplish this goal in slightly different ways. Nasal pillows sit just below your nose with "pillows" that slightly penetrate your nostrils to seal snugly, while nasal masks cover your nose entirely. Traditional full-face masks cover both your mouth and nose, while newer "hybrid" full-face masks sit under your nose and go over your mouth. We'll explain the differences between each style.
Nasal Mask
Nasal masks fit snugly over your entire nose and seal against the skin around it. They are most often made from silicone.
Benefits:
Fits securely around the nose to prevent leaks
Less intrusive than full-face masks
Available in multiple sizes to accommodate a range of face shapes
You shouldn't use one if:
You have a mustache
You breathe primarily through your mouth
You're claustrophobic
Nasal Pillow Mask
Nasal pillows sit beneath your nose, sealing against your nostrils without covering your nose completely. Nasal pillows are typically crafted from flexible silicone.
Benefits:
Great for people with facial hair

Easy to see over top of the mask

Small and lightweight
You shouldn't use one if:
You use higher-than-average pressure settings

You most often breathe through your mouth

You have chronic allergies or congestion
Full Face Mask
Full-face masks cover both your mouth and nose. This mask style is generally pliable and made from silicone.
Benefits:
Works effectively for people who breathe through their mouths

People who use high pressure often find these masks more comfortable than other mask styles

Works for those prone to congestion
You shouldn't use one if:
You have facial hair

You sleep on your stomach

You are an active sleeper
Do You Need a Prescription for a CPAP Mask?
Individuals need a prescription to get CPAP devices and components, including CPAP masks. Those who already have prescriptions may need regular renewals to purchase new devices and qualify for insurance coverage. You do not need a prescription to replace CPAP mask components like the cushion and headgear.
Will Health Insurance or Medicare Cover the Cost of Your CPAP Mask?
Medicare and many health insurance plans cover CPAP devices and equipment such as CPAP masks. However, not all plans are the same and some people may be responsible for all or part of the cost of accessories. Certain plans reimburse you after purchases, while others cover costs outright. Most providers only cover associated CPAP costs when you prove regular use and compliance. Contact your insurance provider for exact terms.
People with Medicare must adhere to a set of requirements that are in place to ensure you use your machine correctly. After meeting your Part B deductible, you must pay a 20% copay that covers CPAP accessories and a machine rental. Provided you use the machine as instructed, you'll own it following 13 months of rental payments.
Where Can You Buy a CPAP Mask?
You can buy a CPAP mask from online and in-person medical device stores. Some physicians and sleep clinics also sell CPAP masks. Visiting a brick-and-mortar store allows you to see a mask in person, which may be appealing for people with specific needs. Online retailers often have the largest selection of CPAP masks, allowing you to find exactly what you need. There are also a number of apps now that can remotely scan your face and help you find the best-fitting mask option.
Frequently Asked Questions About
CPAP Masks
---
While CPAP masks are designed for easy use, you must wear them properly to avoid leaks and receive effective therapy. We'll explore some of the most frequently asked questions that arise regarding CPAP masks and provide troubleshooting tips.
The best way to clean a CPAP mask is with mild soap and water. Disconnect your mask from its tubing and make sure no parts of the machine are plugged in. Gently wash your mask in a tub or sink with soap and warm drinking-quality water. Avoid using harsh dish detergent, as it can leave residue behind.
Rinse your mask with warm water, checking to see that you removed all the soap. Finally, lay the mask out to dry on a towel away from direct sunlight. If you're also cleaning your CPAP machine, it's important to use only distilled water to prevent buildup and bacterial growth.
You should replace your CPAP mask about every three months. Though purchasing a high-quality mask and washing it regularly can slightly prolong a mask's lifespan, you'll still want to ensure you change masks regularly. Overusing your mask can cause the cushion to crack, which may lead to leaks. Check with your mask manufacturer for exact care and replacement suggestions, but expect to purchase three to four new masks a year.
People with long hair can avoid getting it tangled in a CPAP mask by braiding it or wearing a beanie or hair wrap to bed. Before putting on your mask, use one of these methods to fasten your hair against your head, taking care to secure it well enough that it won't come undone when you shift positions. Choosing a CPAP mask that tightens without velcro or buckles at the hairline is another way to avoid getting your hair tangled in your mask and headgear.
Though exact instructions vary depending on which mask style you choose, you put on most CPAP masks using the same method. First, sit upright and hold your mask in one hand and your headgear in the other. Place your mask over your nose, mouth, or both, according to the type of mask you use. Then, while holding the mask in place, pull the headgear over your head and fasten it to your mask.
CPAP mask seating is important. Check the mask to make sure it's secure against your skin but not too tight. Overtightening your mask can lead to leaks. A mask that fits properly sits against your face without tugging at your skin. There should not be any gaps between the mask and your mouth or nose. Turn your machine on, then feel and listen for leaks around the mask before going to sleep.

Still have questions?
Sleep apnea products can be confusing. If you need individualized assistance, send us an email at [email protected] with your questions and we'll help find the best fit for you.
Medical Disclaimer: This content is for informational purposes and does not constitute medical advice. Please consult a health care provider prior to starting a new treatment or making changes to your treatment plan.