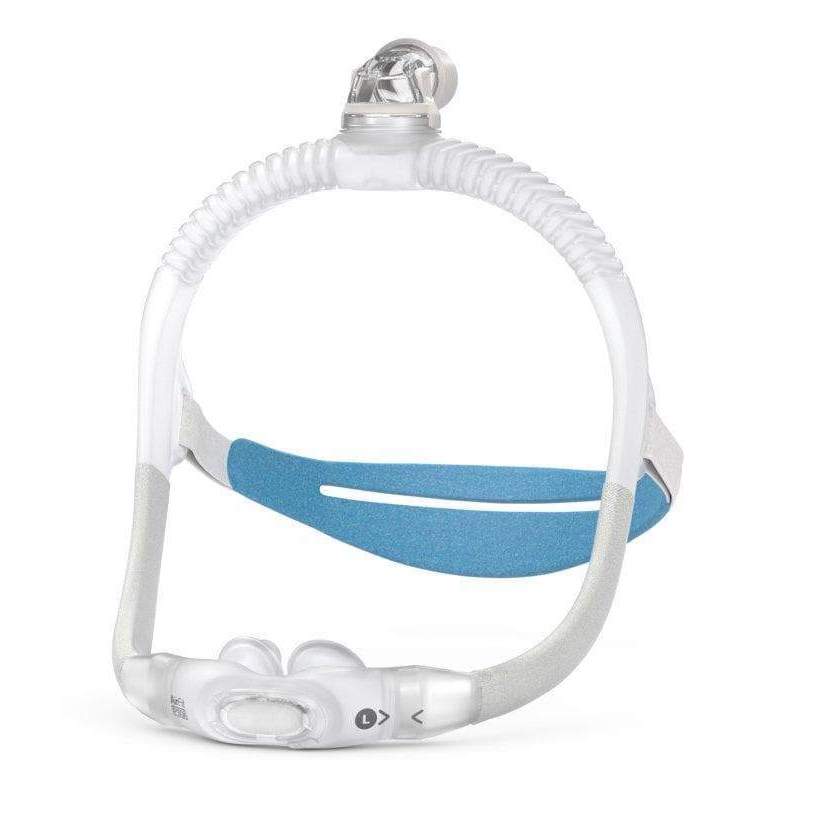 Look u0026 Feel
The ResMed AirFit P30i is a streamlined CPAP mask with a top-of-head hose connection. It's a nasal pillow mask, which means it features silicone nasal inserts that seal just inside the nostrils.
Ideal For
People who prefer a minimalist mask design
Combination sleepers
Those who sleep with a partner
Who Should Keep Looking
Sleepers who tend to breathe through their mouth
Those who prefer tubing in the front of the face
People who are sensitive to hair pulling on the top of their head
Size

Small or Standard Frame; Small, Medium, or Large Cushions
The ResMed AirFit P30i is a nasal pillow mask that's designed for use with CPAP machines and other types of positive airway pressure devices. It features an innovative top-of-head tubing attachment that keeps the forehead clear and allows sleepers to move more easily without worrying about knocking the mask out of place.
ResMed's AirFit mask series has several models, each with its own particularities. We'll run through the differences between these masks to help you decide which is the best for your sleeping style. We'll also take an in-depth look at the design of the P30i and share user reviews of this model.
Other Nasal and Nasal Pillow Mask Models Made by ResMed
Besides the P30i, ResMed's AirFit series includes several other nasal and nasal pillow masks. The AirFit P10, N20, and N30 all have similarities like quiet venting, but they differ in the placement of the tubing, the headgear design, and the way they deliver air to the nose.
ResMed AirFit P10 Nasal Pillow CPAP Mask: The AirFit P10 mask has front-of-face tubing and slip-on headgear, consisting of a simple strap that wraps around the back of the head.
ResMed AirFit N20 Nasal CPAP Mask: The AirFit N20 has a semi-rigid frame that may offer more security for those who struggle with mask slippage, plus a quick-release elbow to easily disconnect it from your CPAP hose. However, instead of nasal pillows that insert into the nostrils, the N20 forms a seal around the nose.
ResMed AirFit N30 Nasal CPAP Mask with Headgear: The AirFit N30 has minimalist wraparound headgear and front-of-face tubing. The mask features a nasal cradle design, with a cushion that rests under the nose and seals around the nostrils.
What You Need to Know About the ResMed AirFit P30i Nasal Pillow CPAP Mask
The AirFit P30i is a nasal pillow CPAP mask, with inserts that fit into the nostrils and deliver pressurized air to keep the upper airway open for people with sleep apnea.
This mask has a low-profile design with wraparound headgear and silicone nasal pillows. The tubing attaches to a quick-release elbow on the top of the head instead of the front of the face, making it less likely to be jolted out of position when sleeping on your side or stomach.
Air travels from the top of the head to the nose through a hollow frame, which has a flexible corrugated design that adapts to the shape of your face. An extra strap made of soft, elastic materials wraps around the back of the head to keep the mask in place.
The mask features QuietAir vents designed to reduce the noise level of exhaled air. Due to its unobtrusive design, the mask leaves a clear area around the eyes for reading or watching TV.
What Comes With It
The AirFit P30i kit includes a set of nasal pillows, a frame system and headgear, and a quick-release elbow. Shoppers can either order the frame and pillows in their preferred size or purchase a starter pack with several pillow sizes for a slightly higher cost.
Components:
Nasal pillows
Frame system
Headgear
Quick-release elbow
CPAP Mask Cost
The ResMed AirFit P30i falls within the average price range for a nasal pillow mask. Nasal pillow masks tend to be more affordable than nasal masks or full-face masks because of their simpler design.
Although some competing models have lower prices, ResMed is one of the best-known brands in the CPAP space and has garnered a reputation for producing reliable CPAP equipment.
Replacement Components
Since CPAP masks come into direct contact with humidity, dirt, and facial oils, mask components need to be replaced periodically to ensure effective CPAP therapy. Since parts break down at different rates, CPAP retailers usually sell replacement components individually.
ResMed suggests replacing the nasal pillows every two weeks, the frame system every three months, and the headgear every six months. The company states that it's normal for the silicone parts to become slightly discolored, but you should replace any components as soon as they show visible signs of damage, such as cracks or tears.
Using This CPAP Mask
---
The AirFit P30i mask is easy to assemble. Donning the headgear requires simply slipping it over your head, and the straps allow you to easily adjust the tightness. The quick-release elbow makes it easy to disconnect from the tubing if you need to get up during the night. Like most nasal pillow masks, the AirFit P30i leaves users a relatively clear line of sight.
The AirFit P30i is compatible with a wide range of CPAP machines. One exception is the ResMed AirMini, though an adapter is available for that travel CPAP machine.
The AirFit P30i has a standard cuff that should fit most tubing and other accessories, and the nasal pillows are interchangeable with ResMed's N30i nasal cushions.
The ResMed AirFit P30i is designed for therapy pressures between 4 and 25 centimeters of water pressure (cm H2O), which encompasses the typical CPAP pressure range. Nasal pillows often have lower pressure thresholds than standard nasal masks or full-face masks, since higher air pressure can be uncomfortable when delivered straight into the nostrils.
As long as the heated tubing has a standard 22-millimeter cuff size, it should be fine to use with the AirFit P30i. Before buying heated tubing, it's important to check if it's compatible with your CPAP machine.
ResMed recommends taking a few minutes every day to clean the nasal pillows. Using a clean toothbrush, gently scrub the nasal pillows in warm water and mild soap, then rinse them in clean water and air dry.
The rest of the components only need to be cleaned once per week by soaking them in warm water and a mild liquid detergent. Use a soft brush with warm water and soap to clean the junctures of the elbow and headgear, then fully air dry before reassembling.
What Do Customers Have to Say About the AirFit P30i Nasal Pillow CPAP Mask?
Overall reviews of the AirFit P30i are very positive. Users note that the mask is soft and flexible, and the top-of-head tubing design and flexible swivel allow for easy movement.
Despite a few reports of the headgear loosening or riding up during the night, many people experience fewer leaks compared with other masks they've used. Most people experience minimal facial indentations.
Sleeping partners like that the air vents on the P30i don't blow air directly at them, which is an improvement over masks with front-of-face tubing. That said, a few side sleepers have found that the tubing restricts airflow on one side.
Choosing a CPAP mask is inherently very personal, and some reviewers simply found that the mask didn't fit them well. A few owners complain of nasal dryness, but others say they solved this problem by choosing a different-sized nasal pillow.
A noted drawback is that the soft fabric sleeves on the headgear are not removable, making them difficult to dry after cleaning.
Trial, Warranty, and Shipping Policies
| | |
| --- | --- |
| Availability | CPAP masks are prescription-only and can be purchased through authorized in-store and online CPAP suppliers. |
| Shipping | Shipping methods and delivery times for the ResMed AirFit P30i depend on the retailer. Sleep Doctor offers free shipping in the contiguous U.S. for orders of $99 or more. |
| Returns | Each seller has its own return policy. For example, Sleep Doctor accepts returns of unused and unopened masks within 60 days of the delivery date. The company will issue a full refund, but customers are responsible for return shipping. |
| Warranty | The AirFit P30i is backed by a 90-day manufacturer's limited warranty. During this period, ResMed will replace or repair defective products at the company's option. The warranty is valid only for the original purchaser and does not cover damage arising from improper use, contact with smoke, or unauthorized repairs. Additional terms apply. |

Still have questions?
Sleep apnea products can be confusing. If you need individualized assistance, send us an email at [email protected] with your questions and we'll help find the best fit for you.