Choosing the right mask to use with a continuous positive airway pressure (CPAP) machine can be challenging for anyone, but some women find the process particularly difficult. Men are more likely than women to experience obstructive sleep apnea, and CPAP masks are often made with male facial features in mind.
For some women or people assigned female at birth, a CPAP mask designed for women can offer a better and more comfortable fit. CPAP masks for women are crafted for narrower facial features, and some offer headgear designed for longer hair.
We'll introduce you to some of the best CPAP masks for women, then walk you through useful information to know when deciding on a CPAP mask. We'll also take a closer look at how CPAP masks designed for women compare to unisex masks.
---
ResMed AirTouch N20 Nasal CPAP Mask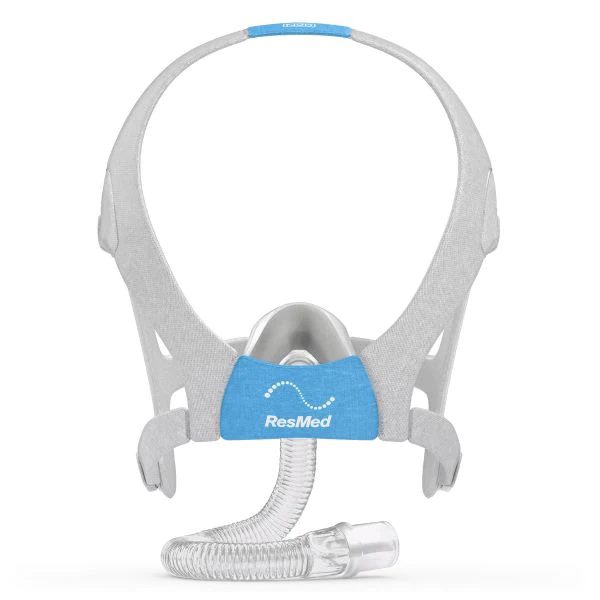 Ideal For
People who dislike the feel of silicone cushions
CPAP users with sensitive skin
Active sleepers
Who should keep looking
People with a pacemaker or other implanted medical device
CPAP users who breathe through their mouth
Those who wear a bonnet or sleep cap
Size

Small, Medium, Large, Small for Her
The ResMed AirTouch N20 is a nasal CPAP mask with a memory foam cushion that is comfortable, lightweight, and easy to care for. The mask also features flexible headgear with magnetic attachments and a quick-release elbow so that you can easily get up during the night.
Since memory foam shouldn't get wet, ResMed recommends cleaning the mask cushion daily with a CPAP wipe and replacing it every month. The mask can also be used with ResMed's silicone AirFit N20 cushion.
If you or a sleep partner has a pacemaker or another type of implanted medical device, it should be noted that the mask uses magnetic clips. While the mask is not subject to a product recall, the company advises that the mask be kept at least 2 inches away from the implanted device. Speak with your doctor if you have concerns about any potential contraindications.
The AirTouch N20 has a "For Her" size that is smaller than the unisex sizes, which come in small, medium, and large. The For Her model has lavender accents instead of the standard version's blue.
Most people will likely be able to find an AirTouch N20 size that works well for their needs. However, the over-the-head strap may be uncomfortable for people who wear a bonnet or sleep cap.
---
ResMed AirFit P10 Nasal Pillow CPAP Mask
Ideal For
People who wear glasses
CPAP users interested in an extremely low-profile mask
Light sleepers and those whose bed partners awaken easily
Who should keep looking
People who breathe through their mouth while they sleep
CPAP users with frequent congestion or sinus irritation
Those who prefer headgear with a long lifespan
Size

Small, Medium, Large, Extra Small for Her, Small for Her, Medium for Her
The ResMed AirFit P10 is one of the lowest-profile CPAP masks available. Weighing less than 2 ounces, this nasal pillow mask has an exceptionally open three-piece design. Very light sleepers can sometimes find CPAP masks noisy, but the AirFit P10 features woven mesh venting to reduce noise during exhalation.
The AirFit P10's headgear is one-size-fits-all, making it easy to adjust for a comfortable and secure fit. The headgear is also easy to put on and take off, making it a good choice for people who wake up often during the night. However, the headgear stretches out relatively quickly and typically must be replaced more often than some competing models.
The AirFit P10 for Her has lavender accents and comes with extra small, small, and medium nasal pillows. The unisex AirFit P10 has blue accents and comes with small, medium, and large pillows.
---
ResMed AirFit F20 Full Face CPAP Mask
Ideal For
People with sensitive skin
CPAP users who breathe through their mouth
Anyone who finds it difficult to achieve a good seal
Who should keep looking
Shoppers on a tight budget
Those who prefer minimalist headgear
People with implanted medical devices
Size

Small, Medium, Large, Small for Her, Medium for Her
The ResMed AirFit F20 is a feature-heavy full-face mask with an innovative cushion design. The AirFit F20 uses ResMed's dual-walled InfinitySeal silicone cushion, which is designed to adapt to different facial features. People with sensitive skin are likely to find the cushion comfortable, as it is able to achieve a tight seal without pulling on the user's skin.
The mask's flexible headgear is covered in a soft mesh fabric that may help reduce redness and irritation. It also features a quick-release elbow so that users can disconnect from their tubing without taking off their mask.
The AirFit F20 for Her has lavender accents and narrower headgear than the unisex AirFit F20.
Like the AirTouch N20, the AirFit F20 features magnetic headgear clips. Though the mask has not been recalled, ResMed cautions that it should be kept at least 2 inches away from any implanted medical device, including pacemakers.
---
Why We Picked These
No CPAP mask will be the right fit for everyone, but our featured products have received excellent reviews from a wide range of CPAP users. We compare these customer reviews against other important factors, including the mask's features and the manufacturer's reputation, before making our final choices.
How CPAP Masks Designed for Women Compare to Unisex CPAP Masks
While people of all genders can use unisex or standard CPAP masks, they are typically designed for people with larger facial structures. CPAP masks for women fit better on some people, as they are designed for narrower features and smaller skull proportions.
You might want to consider a CPAP mask designed for women if you have a narrow face shape or if you can't find a unisex mask that fits correctly. However, there is no reason to switch to a CPAP mask designed for women if your unisex mask fits and is comfortable.
What You Should Consider When Choosing a CPAP Mask for Women
Breaking down a mask's performance and attributes into different categories can simplify the process of choosing a CPAP mask.
CPAP Mask Considerations
Size and Fit
Poorly fitting CPAP masks can be both uncomfortable and ineffective. Air leaks lower the air pressure you receive, so a mask that fits correctly is necessary for effective CPAP therapy.

Your CPAP mask should also fit properly with your hair in its usual style. Many CPAP masks designed for women have headgear that ensures a correct fit even if the user has long, thick, or curly hair.
Sleep Position
Many people choose their CPAP mask type based on their preferred sleep position. Full-face masks, for example, can be uncomfortable for people who sleep on their side or stomach.

Accessories such as CPAP pillows with curves or cutouts can make sleeping on your side or stomach more comfortable. This is particularly useful for people who require a specific style of mask but whose sleep apnea symptoms worsen when they sleep on their back.
Compatibility
While the majority of CPAP masks are compatible with all CPAP machines, it's still important to double-check that your chosen mask will work with your other CPAP equipment. Similarly, check with your doctor to ensure that the mask is suitable for your prescribed air pressure settings before purchasing.
Types of CPAP Masks for Women
The most common CPAP mask types are nasal masks, nasal pillow masks, and full-face masks. Each mask type has pros and cons, though different designs within each category may offer additional benefits or address some of the drawbacks.
CPAP Nasal Mask
Nasal masks usually cover the entire nose, from the bridge to just above the lips. Most are triangular in shape, though mask shapes and sizes differ depending on the manufacturer and design. Some nasal cradle models rest below the nose and seal against the nostrils.
Benefits:
You Shouldn't Use One If:

May provide effective treatment at a lower prescribed pressure compared with a full-face mask
Effective for sleepers who primarily breathe through their mouth
Comfortable for many side sleepers

You have difficulty maintaining a seal and experience air leak near your eyes
You breathe through your mouth and find chin straps uncomfortable
You experience regular nasal congestion
Nasal Pillow Mask
Nasal pillow masks have the lowest profile of any CPAP mask style. Unlike nasal masks, they do not cover the nose. Instead, nasal pillow masks rest under the nose and have nasal inserts that extend just inside the nostrils.
Benefits:
You Shouldn't Use One If:

Extremely compact and lightweight
Lower profile may reduce feelings of claustrophobia
Minimalist design is generally better suited for stomach sleepers

You've been prescribed a high pressure level and cannot tolerate the more direct airflow
You breathe through your mouth while you sleep
You have frequent sinus pain or congestion
Full-Face Mask
Despite their name, full-face CPAP masks cover only the user's nose and mouth. While they are bulkier than other CPAP mask types, full-face masks direct pressurized air through both the nose and mouth and are more comfortable for some people.
Benefits:
You Shouldn't Use One If:

Minimizes air leakage for sleepers who breathe through their mouth
May be more comfortable for people who require high air pressure settings
May benefit people prone to nasal congestion

You sleep on your stomach
You dislike the feeling of your mouth being covered by the mask
Your skin is sensitive to pressure and irritation
Do You Need a Prescription for a CPAP Mask?
CPAP masks are considered medical equipment and require a prescription. Replacement parts for CPAP masks, such as cushions or headgear, can be purchased without a prescription.
Will Health Insurance or Medicare Cover the Cost of Your CPAP Mask?
CPAP masks are necessary equipment for CPAP therapy and are at least partially covered by Medicare and many health insurance carriers.
Medicare and some other insurance companies that provide CPAP coverage also allow users to replace their mask according to a predetermined schedule. However, it's important to check your plan's coverage, as deductibles and other conditions may apply.
Frequently Asked Questions About
CPAP Masks
---
Different types of CPAP masks require different measurements, which should be made with a ruler or tape measure while holding a neutral expression. Check with the mask manufacturer for the specific measurements needed to identify the correct mask size. Some manufacturers offer mask templates that, when printed to scale, show you the actual shape and size of the mask you plan to purchase.
If you find it difficult to select the right mask size, a sleep specialist or the staff at a brick-and-mortar CPAP retailer can check that your measurements are accurate and help you decide.
Specific mask cleaning recommendations may vary by manufacturer and model, but general CPAP cleaning guidelines involve regular washings of mask components with warm water and mild soap. In general, mask cushions or nasal pillows should be washed daily with a damp cloth and a mild detergent or thoroughly wiped with a CPAP cleaning wipe.
On a weekly basis, all mask components — including headgear — should be washed with warm, soapy water and fully air dried before subsequent use. Note that mask cushions made of memory foam shouldn't be submerged in water and only need to be wiped clean.
Even with regular cleaning, CPAP masks eventually wear out and need to be replaced. Refer to manufacturer guidelines for replacement schedules of mask parts.
People with long hair may find that wearing their hair in a braid or comfortable ponytail helps prevent tangling or pulling when wearing a CPAP mask.
Sleep caps, scarves, and bonnets are also popular ways to protect your hair while using a CPAP machine. If you choose to cover your hair, breathable natural fabrics like cotton or silk are generally cooler than synthetic fabrics.