Nasal masks are one of the most popular styles of CPAP masks. They're less bulky than full-face masks and come in a wide range of shapes, sizes, and materials. While traditional CPAP nasal masks cover the entire nose, newer models are more compact and have less direct contact with the face.
For successful CPAP therapy, it's crucial to choose the right mask. However, with so many different brands and models on the market today, it can be difficult to know which mask is right for you. We'll cover our top picks for nasal masks, discuss the process of buying a CPAP mask, and answer some of the most frequently asked questions about using a CPAP nasal mask.
---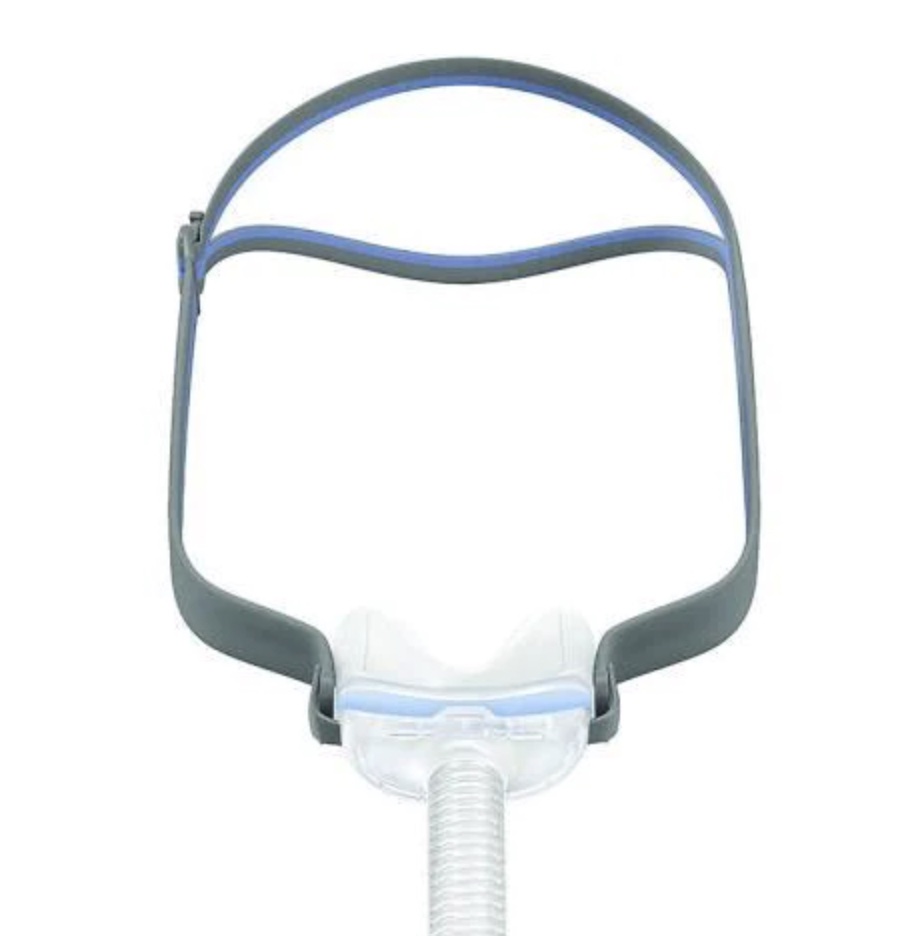 Ideal For
Anyone looking for a lightweight, comfortable CPAP nasal mask
Side sleepers
Sleepers with facial hair
Who should keep looking
People who breathe through their mouth
Shoppers on a budget
Sleepers who need headgear that's easy to put on and take off quickly
Size

Small, Medium, Small Wide
The ResMed AirFit N30 is a lightweight, low-profile CPAP nasal mask with a reasonable price-point. The N30 uses Resmed's QuietAir technology — a woven mesh filter that quietly diffuses air away from you and your partner — to help prevent sleep disruptions. The mask features a curved and compact silicone cushion that gently rests under the nose without causing discomfort or pressure marks.
The small, curved design provides a consistent seal for most face shapes and generally works well for side sleepers. However, people who breathe through their mouths may experience air leakage with this mask, particularly if they don't also use a chinstrap.
The nasal mask is very lightweight, weighing just 1.6 ounces. The design, which minimizes contact with the face, is ideal for sleepers with facial hair and those who feel claustrophobic wearing a larger CPAP mask. The headgear also features a simple, low-profile design that's easy to adjust. However, the mask lacks a quick release for easy removal at night.
The N30 is latex-free and uses standard CPAP tubing. The nasal cushion comes in three sizes: small, medium, and small-wide. The entire mask consists of just three parts, which are easy to disassemble and clean. Shipping is free.
---
ResMed AirFit P30i Starter Pack
Ideal For
Those who are new to CPAP therapy
People who are easily awoken by noise
Users who have trouble finding a comfortable mask
Who should keep looking
People who prefer masks that cover the forehead
Shoppers on a budget
Sleepers with facial hair
Size

Small or Standard Frame, Small, Medium, or Large Cushions
If you are a first-time CPAP user, the ResMed AirFit P30i Starter Pack comes with everything you'll need to get started with CPAP therapy. The mask has a user-friendly design and includes cushions in multiple sizes to help you determine the best fit.
The mask features an over-the-head design that does not obscure your forehead, unlike many competing nasal masks. The low profile is ideal for users who find it difficult to sleep with masks that cover much of their face. The elbows connecting the mask to the headgear have a quick-release mechanism that allows for easy removal. This is particularly helpful if you make frequent trips to the bathroom at night.
ResMed's QuietAir vent design reduces the amount of noise produced from air traveling through the mask, so your CPAP therapy is less likely to wake you or a sleep partner. You can pick between two different frame sizes — small and standard. The small frame comes with small- and medium-sized nasal cushions while the standard frame includes cushions in all available sizes.
Shipping is free for orders $99 and over if you purchase the mask on The Sleep Doctor.
---
ResMed AirTouch N20 Nasal CPAP Mask
Ideal For
Sleepers who find silicone masks uncomfortable
Users with small-framed faces
People who frequent the bathroom at night
Who should keep looking
Shoppers on a budget
Users who prefer silicone masks
Those seeking a mask that can be easily cleaned
Size

Small, Medium, Large, Small for Her
The ResMed AirTouch N20 Nasal Mask is designed with comfort in mind. While many CPAP masks are composed of silicone, this model is made of a soft memory foam that offers relief to users who find silicone masks too uncomfortable.
Memory foam is known for its contouring properties, and the foam design of the N20 allows it to adapt closely to the shape of your face. This not only provides a comfortable fit but also creates a tighter seal to prevent air from leaking. You can purchase the mask in four different sizes, including a "for her" size that caters to users with smaller-framed faces. This option is touched up with subtle lavender coloring.
The headgear features magnetic clips to make it easy to put on and remove. The mask's low-profile keeps your forehead clear from obstruction, which some may find more comfortable at night. While the mask has a very user-friendly design, note that the foam cushions should not be submerged in water. Instead, you may spot-clean them as needed and replace them monthly.
The Sleep Doctor offers free shipping for orders $99 and over, which includes the price of the AirTouch N20.
Best for Combination Sleepers
Philips Respironics DreamWear Nasal Pillow CPAP Mask with Headgear
Ideal For
People who toss and turn at night
Combination sleepers
Users who find other masks irritating to the skin
Who should keep looking
Shoppers on a budget
Users who find silicone masks uncomfortable
People who prefer a mask that covers the forehead
Size

Small, Medium, Large
If you often switch sleep positions in the middle of the night, it may be hard to find a CPAP mask that stays put while also feeling comfortable. The Philips Respironics DreamWear Nasal Pillows CPAP Mask with Headgear is designed to accommodate sleepers who change positions throughout the night.
The mask comes with a gel pillow cushion made of soft silicone to reduce friction and irritation. The streamlined design minimizes the amount of gear against your face, allowing the mask to stay put more easily even if you're tossing and turning. The mask comes in a small, medium, or large size, so it should accommodate most face shapes and sizes.
The DreamWear Nasal Pillows CPAP Mask qualifies for free shipping when purchased on The Sleep Doctor, which offers free shipping for purchases of $99 or more.
Use this SleepApnea.org link for the most current discount on Philips Respironics products
Shop Now
Why We Picked These
An uncomfortable, ill-fitting mask can prevent many people from using CPAP therapy. Our SleepApnea.org team understands that successful sleep apnea treatment often comes down to compliance, which is why we research the best CPAP masks for a wide range of sleeper types.
To bring you the best CPAP nasal masks on the market, we've drawn from our deep knowledge of sleep apnea, CPAP therapy, and CPAP products. We research dozens of models to help make navigating the process of purchasing a CPAP mask easier. We select models made by reputable brands with the best features, customer reviews, and supply chain availability.
What You Should Consider When Choosing a CPAP Nasal Mask
When purchasing a CPAP mask, there are several things to keep in mind to ensure that you end up with the best mask for your needs. These include considerations like price, mask size, sleep position, compatibility, and more.
Price
CPAP nasal masks can range in price from $50 to $200. The price-point usually depends on the design and materials. Because a well-fitting mask is crucial for effective CPAP therapy, you should focus on finding one that fits your face shape. Then you can narrow down your options by price-point.
Size and Fit
An ill-fitting CPAP mask can be uncomfortable and is more likely to leak air. Make sure to take measurements so you can size your mask correctly. Nasal masks may require you to measure the length and width of your nose to find the right fit.
Sleep Position
Your sleep position can help determine which type of mask is best for you. Stomach and side sleepers tend to need lower profile masks that have less direct facial contact. Active sleepers, on the other hand, need a mask with a strong, secure seal.
Compatibility
Many CPAP machines and parts are universally compatible, but that's not always the case. Before purchasing a mask, double-check that the model and tubing size is compatible with your CPAP machine.
Comfort
Choosing the right mask can help improve comfort, but comfort is also subjective. Picking the correct size is a key step in ensuring a comfortable fit. Hose location and mask material, such as silicone versus foam, are also factors to keep in mind. If you're new to CPAP therapy, consider finding an in-person store or speaking with your sleep specialist so you can try on different mask styles before purchasing.
Quality Materials
A well-made mask featuring quality materials is likely to last longer and function better. High-quality masks often feature silicone cushioning and soft, stretchy straps. However, keep in mind that some mask parts will require regular replacement regardless of quality.
Where Can You Buy a CPAP Nasal Mask?
There are several ways to purchase a CPAP nasal mask, including online, in-store, or directly from your doctor or sleep specialist.
Many CPAP users choose to buy online because it allows you to browse a large range of models from different manufacturers. Shopping online for CPAP masks also gives you the opportunity to compare prices and find the best deal. Keep in mind that you will need to upload a copy of your prescription to purchase a CPAP nasal mask online.
While shopping in person allows you to try on different models, the selection is usually more limited. However, shopping in person allows you to see how a mask fits before purchasing. You can also shop in person through your pharmacy or with your doctor or sleep specialist.
Do You Need a Prescription for a CPAP Nasal Mask?
A valid prescription is required to buy a CPAP nasal mask online or in person. The FDA regulates all CPAP masks as Class II medical devices. This helps ensure the safety and quality of the CPAP masks on the market, but it also means that shoppers need a prescription.
Will Health Insurance or Medicare Cover the Cost of a CPAP Mask?
Medicare and health insurance plans typically cover part of the cost of CPAP nasal masks. Your health insurance provider may take into account your apnea-hypopnea index (AHI) or the severity of your sleep apnea symptoms when deciding your level of coverage. Your policy may also cover some of the cost for replacement parts. However, every plan is different, so be sure to check the fine print of your coverage.
Medicare usually covers a 3-month CPAP trial period for people diagnosed with sleep apnea. After the trial period, Medicare requires a doctor evaluation for continued coverage. The level of Medicare coverage may depend on whether you have additional insurance.
Differences Between CPAP Nasal Masks and Nasal Pillow Masks
CPAP masks come in several shapes and styles. To get the most out of CPAP therapy, it's important to choose the right CPAP mask for your needs.
A nasal mask typically covers your nose from the nasal bridge to just above the lips. However, newer models are increasingly small and lightweight, sitting just under the nose, where they create a seal around the nostrils. The frame of a nasal mask is usually cushioned with silicone, gel, or foam material to increase comfort and ensure the mask creates a good seal.
Nasal pillows are a more compact style of CPAP mask. They consist of a small, oval silicone cushion. The cushion sits below the nose and inserts directly into the nostrils, where it delivers pressurized air.
CPAP Nasal Masks vs. Nasal Pillow Masks
Nasal Mask
A CPAP nasal mask consists of a cushioned frame that creates a seal around the nostrils. Adjustable head straps hold the mask in place.
Benefits:
More compact than a full-face CPAP mask
Works well with high-pressure settings
Good for active sleepers
You Shouldn't Use One If:
You have a lot of facial hair
You breathe through your mouth when not using a chinstrap
Nasal Pillow Mask
A nasal pillow mask consists of a small, oval silicone cushion that sits below your nose and inserts into the nostrils. Adjustable head straps hold the nasal pillow in place.
Benefits:
Compact and lightweight
Doesn't obstruct your vision
Comfortable for side sleepers
You Shouldn't Use One If:
You need a high-pressure setting
You are prone to allergies or nasal irritation and dryness
You breathe through your mouth when not using a chinstrap
Frequently Asked Questions About
CPAP Nasal Masks
---
Using and maintaining a CPAP nasal mask may seem complicated at first, but some basic questions can be easily addressed. However, you should make sure to talk with your doctor or sleep specialist about your specific CPAP therapy needs.
You should wipe down your CPAP nasal mask every morning and give it a more thorough cleaning in soapy water once a week.
Since your CPAP mask comes into direct contact with your skin each night, it's important to keep it clean. Every morning, use a disinfecting wipe to clean the mask's surfaces. Allow the mask to sit out so that excess moisture can dry.
Give your mask a deeper cleaning once a week. Gently wash the entire mask — including the headgear — in soapy water, rinse, and then leave it out to dry completely. Avoid using any type of cleaner that could potentially irritate your skin, such as bleach.
If you have long hair, you can experiment with different combinations of hair styles, headgear, and hair coverings to avoid getting your hair tangled with the straps from a CPAP nasal mask. Keeping your hair out of the way also helps ensure that your mask forms a proper seal.
A simple ponytail can easily fit through the gaps in the straps of your headgear, and it keeps your hair out of the way. If you don't like sleeping with a ponytail, you can try using a low-profile head covering, such as a scarf or sleep beanie, to act as a barrier between your hair and CPAP nasal mask. You can also try different mask models to see which style of headgear is most comfortable for you.
When using a CPAP nasal mask, try to breathe in through your nose and out of your mouth. Breathing through your nose ensures that your CPAP machine delivers the right level of pressure to your airway.
New CPAP users might find it difficult to breathe the first time they put on their CPAP mask. While a nasal mask is designed to feel less cumbersome and claustrophobic than a full-face mask, it can still take time to get used to breathing into a mask.
Try relaxing in bed for a few minutes before putting on your CPAP nasal mask and turning on your CPAP machine. If your CPAP machine has a ramp option, you can use this feature to slowly increase the air pressure.
Sleep specialists don't usually recommend a CPAP nasal mask if you breathe through your mouth. However, you can try using a chinstrap to hold your mouth closed and encourage nasal breathing while you sleep.
Full-face masks are best for people who breathe through their mouth because they cover both the nose and mouth. However, many people find full-face masks to be uncomfortable when sleeping.
CPAP nasal masks are a popular alternative due to their low-profile design and wide range of sizes and shapes. If you'd like to try a CPAP nasal mask but breathe through your mouth while you sleep, consider using a chinstrap. A chinstrap wraps around the chin and the upper part of the head to hold the jaw closed, preventing air leaks as you sleep.

Still have questions?
Sleep apnea products can be confusing. If you need individualized assistance, send us an email at [email protected] with your questions and we'll help find the best fit for you.
Medical Disclaimer: This content is for informational purposes and does not constitute medical advice. Please consult a health care provider prior to starting a new treatment or making changes to your treatment plan.