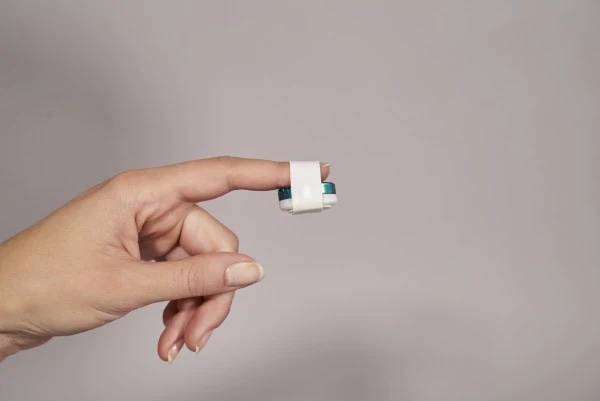 Look & Feel
At 1 ounce, the NightOwl is the smallest home sleep apnea test on the market. The sensor itself is a small oval shape that is taped to the user's finger for testing.
Ideal For
Adults with symptoms of moderate to severe obstructive sleep apnea
People on a tight budget
Anyone who is unable to travel to a sleep study center
Who should keep looking
People who do not own or have access to a smartphone
Anyone who may have central sleep apnea or another sleep disorder
Those who have certain conditions, such as a history of stroke, that require additional observation
Diagnosis of obstructive sleep apnea (OSA), a sleep breathing disorder, typically requires an overnight sleep study at a sleep lab. The Ectosense NightOwl is a sleep apnea test approved by the U.S. Food and Drug Administration (FDA) that people can use at home. The test uses a small fingertip sensor connected to a smartphone app to record the metrics needed to diagnose sleep apnea.
We'll cover how the NightOwl works, how it compares to a traditional sleep study, and the benefits and drawbacks of home sleep apnea tests.
What Is Obstructive Sleep Apnea (OSA)?
OSA is a sleep breathing disorder that causes people to stop breathing for short periods while asleep. These pauses in breathing, or apneas, are caused by a blockage in the airway during sleep.
OSA is a common disorder that affects up to 30% of men and 15% of women in the U.S., though many experts believe it is underdiagnosed. It is estimated that up to 90% of people with sleep apnea may not have been diagnosed yet.
Common risk factors for OSA include older age, smoking, having a higher body mass index (BMI), and being male or person assigned male at birth. The shape of a person's jaw and enlarged tonsils can also make people more likely to experience OSA.
Doctors use a scale called the apnea-hypopnea index (AHI) to diagnose OSA and understand the severity of a person's OSA. To determine the AHI, doctors divide the number of apnea events a person experiences by the number of hours spent sleeping.
OSA Severity
OSA Severity
Normal Breathing
0-4
Mild OSA
5-14
Moderate OSA
15-29
Severe OSA
30+
Signs and symptoms of OSA
Many obvious OSA symptoms occur during sleep. However, the disorder also affects daytime functions, sleep quality, and overall health.
Symptoms of OSA include:
Feeling sleepy during the day despite getting enough sleep at night
Poor concentration
Irritability and mood changes
Sexual dysfunction
Loud snoring, particularly if it's accompanied by gasping, choking, or snorting
Waking up frequently
Increased need to urinate during the night
How the Ectosense NightOwl Detects Symptoms of Obstructive Sleep Apnea
The Ectosense NightOwl uses a single fingertip sensor to record three metrics. Instead of being clipped to the user's fingertip like most traditional designs, the NightOwl's sensor is taped in place. It connects via Bluetooth with an app on the user's phone to record and transmit the necessary data.
Blood Oxygen Level:
When individuals briefly stop breathing during an apnea event, it causes lower blood oxygen levels, which the NightOwl's sensor detects.
Heart Rate:
Apnea events have a noticeable effect on heart rate. The NightOwl looks for the signature pattern of a slowed heart rate followed by an increased heart rate that occurs during and after an apnea event.
Actigraphy (Body Movement):
The NightOwl is able to determine whether the user is asleep or awake by monitoring body movement.
AHI (Apnea-Hypopnea Index):
The NightOwl measures the AHI, or the number of apnea events divided by the number of hours slept. This number is used to help diagnose OSA and determine its severity.
Types of Sleep Apnea This Device Detects
The Ectosense NightOwl is designed to detect obstructive sleep apnea. Other forms of sleep apnea, such as central sleep apnea (CSA), are diagnosed using different metrics than those used by the NightOwl.
People with symptoms of CSA or other sleep disorders should speak to their doctor about what diagnosis method is right for their needs.
The NightOwl's Accuracy at Detecting OSA Symptoms
Home sleep apnea tests can be a good option for individuals who have symptoms of moderate to severe OSA and do not have other medical conditions. However, users should note that while home sleep apnea tests can detect the presence of OSA, they may not accurately estimate the severity.
How This Device Stacks Up Against Traditional Sleep Studies
A sleep study conducted at a sleep clinic, also known as polysomnography, is the most common way to diagnose OSA. However, a home sleep apnea test may be a good option for certain individuals. We'll go over the benefits and limitations of each testing option below.
NightOwl vs. In-Lab Sleep Studies
If you show symptoms of a sleep disorder other than OSA or if you have other health conditions that may require observation during sleep, your doctor may recommend an in-lab sleep study rather than a home sleep apnea test.
Some people who qualify for a home sleep apnea test may still prefer a sleep test conducted at a clinic. Many factors determine what type of test sleepers might choose, including cost, convenience, and accuracy.
NightOwl
In-Lab Sleep Study
Benefits:

Easier to sleep normally due to the low-profile sensor design and being able to sleep in your own bed
Cost is significantly less than an in-lab sleep study
Does not require traveling, which may be a concern for people in rural areas

Benefits:

The most accurate form of sleep apnea testing
May detect sleep disorders other than OSA
Consolidates a number of potential tests that may need to be conducted, including CPAP titration

Limitations:

In-lab sleep tests may still be required if results are inconclusive or sleeper requires CPAP titration after diagnosis
Does not detect CSA or other sleep disorders
User error may negatively affect the test's accuracy

Limitations:

Sleeping can be difficult due to unfamiliar environment and number of sensors used for the study
Many rural or isolated areas do not have a sleep clinic
Costs significantly more than a home sleep apnea test
Does the NightOwl Replace a CPAP Titration Study?
The NightOwl does not replace the need for a titration study, which determines the level of air pressure an individual requires for continuous positive airway pressure (CPAP) therapy.
CPAP therapy, which uses pressurized air to keep the user's airways open during sleep, is the most effective treatment for OSA.
Unlike CPAP machines, automatic positive airway pressure (APAP) machines automatically adjust air pressure levels as sleepers' needs change throughout the night. If your doctor determines that an APAP machine may work for you, you may be able to complete the initial titration at home.
What You Need to Know About the Ectosense NightOwl
The Ectosense NightOwl uses a fingertip sensor to track three metrics, then synthesizes the data to create your AHI score. A Bluetooth connection sends the information to your phone, which your doctor receives and uses to determine your diagnosis.
The NightOwl is a rechargeable device that can conduct three nights of testing on one charge. Ectosense also sells the NightOwl Mini, which is capable of ten nights of testing but cannot be recharged. The device cannot be shipped to those who live in Rhode Island, Hawaii, Delaware, or North Dakota.
We'll highlight what makes the NightOwl stand out from comparable home sleep apnea tests as well as how the test is conducted.
What Comes With It
The NightOwl device itself is an oval sensor that weighs 1 ounce. Ectosense also includes adhesive strips for attaching the sensor to your fingertip and instructions for use.
Shoppers who purchase the NightOwl receive an activation code for the NightOwl Companion smartphone app. The app is free and required for using the NightOwl test as it collects, stores, and sends the data to your doctor.
Components:
NightOwl fingertip sensor
Instructions
Adhesive strips
Activation code for the NightOwl Companion app
Technical Specifications
The Ectosense NightOwl uses a small fingertip sensor to track the user's heart rate, blood oxygen level, and body movements during sleep. These metrics are used to determine the user's AHI score and aid their doctor in determining whether they have OSA.
The NightOwl device can last three nights on a single charge, though purchasing the NightOwl device only includes testing for one night. Extra nights of testing can be purchased if necessary.
Price: $179 for a one-night test
Features:
Low-profile, lightweight fingertip sensor
No cords
Works for three nights on one charge
Tracks three metrics and analyzes AHI score
Fully disposable
Customizations: More test nights can be added for an additional cost
How to Use This Device
Setting up and using the NightOwl is a straightforward process, but following the provided instructions is crucial to ensure the test results are as accurate as possible.
Each purchase of the NightOwl includes a post-test video consultation session with a board-certified sleep specialist who discusses your results, reviews treatment options, and provides a prescription for treatment, if necessary.
Step 1:
The NightOwl Companion smartphone app, which is required to use the NightOwl, is available on Google Play and the Apple App Store. Once you have downloaded the app, you can authorize your device using a code that is sent via email after purchase.
Step 2:
After accepting the app's terms and conditions, you will be asked to fill out your personal information. This step must be completed before testing.
Step 3:
To pair your NightOwl sensor with the app, push the button on the sensor until a red light flashes. This red light indicates that you can press the "start connecting" button on your app, which connects the two devices.
Step 4:
The NightOwl Companion app will walk you through attaching the sensor to your finger using the included adhesive strips. It is important to avoid wrapping the adhesive strips too tightly, as this may lead to inaccurate readings.
Step 5:
Before you fall asleep, press start on the NightOwl Companion app. In the morning, press stop upon waking. You will be asked to provide information about how you slept before submitting your data.
Sleep Data Results and Diagnosis
The NightOwl Companion app sends your data to your doctor after you press submit. Users receive their sleep report via email two to four business days after testing. Users can also opt to pay an additional fee for expedited results that are delivered within one business day.
After testing, users schedule a video call consultation with a board-certified sleep doctor. The doctor discusses your NightOwl results and walks you through treatment options if you receive an OSA diagnosis. If treatment is necessary, the doctor can also provide you with a prescription.
Users should note that if their doctor believes CPAP therapy is the best treatment option, they will need to undergo a titration study at a sleep clinic.
What Do Customers Have to Say About the Ectosense NightOwl?
Most NightOwl customers report that they are satisfied with the test. Users particularly enjoy the low-profile sensor design and ability to consolidate information in the app.
Many customers reported wrapping the adhesive strip around their finger too tightly. This caused some individuals to experience discomfort, while others had to repeat their test due to inaccurate data. Some customers recommend applying the sensor half an hour before sleep to better gauge how tightly the strip is wrapped.
Warranty and Shipping Policies
Availability
Ectosense is based in Belgium and has international availability. The test is available for customers in the United States, with the exception of those who reside in Rhode Island, Delaware, Hawaii, or North Dakota. Customers must purchase the test from a sleep product or CPAP retailer, as Ectosense does not sell directly to consumers.
Shipping
Shipping time and cost varies between retailers. Some retailers may offer free shipping on purchases over a certain amount, while others may offer expedited shipping for a fee. Your location may also affect shipping time and cost. The device cannot be shipped to those who live in Rhode Island, Hawaii, Delaware, or North Dakota.
Warranty
Ectosense backs the NightOwl with a two-year warranty that covers defects in manufacturing and materials. If the device does not receive accurate data, you can repeat the test at no additional cost.
Medical Disclaimer: This content is for informational purposes and does not constitute medical advice. Please consult a health care provider prior to starting a new treatment or making changes to your treatment plan.

Still have questions?
Sleep apnea products can be confusing. If you need individualized assistance, send us an email at [email protected] with your questions and we'll help find the best fit for you.